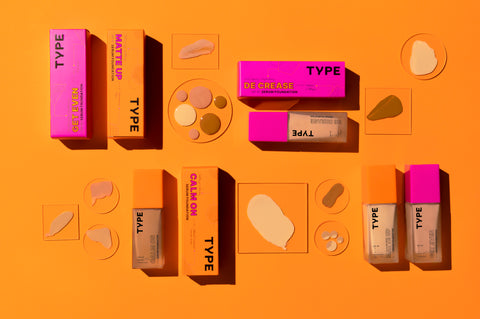 Hit the Base right with remedial formulas!
Your base has been one of the most struggling spaces when it comes to makeup! But, this formula that type has designed for you is going to resolve all your problems. It is a miraculous formula that your skin will swoon over as it sinks in. Foundations have been a part of our make-up routine from the times we can't even recollect. And as time has passed by, the formulas have changed their course with new interventions and ingredients to make them more productive than before. Hence, it was Type's turn to take charge and revolutionize the formula for the better! Because, we believe if make-up doesn't suit your TYPE it doesn't deserve a space in vanity, life, and whatsoever!
We bring you the most diversified shade range available in the Indian make-up unit, a set of 24 shades to match your perfect tone and fit the best! We've tried to put in our best effort to bring about inclusivity.
We've mastered 4 Types of Foundations to suit your skin the best and they are:
Try on, our  Calm ON, a formula made specifically for sensitive and boiled-up skin. Infused with colloidal oatmeal and amino acids, it soothes irritated skin and aids in building a strong skin barrier. It gives a subtle satin finish to the dermis and is of course buildable, so you can achieve your desired coverage by topping it with more product!
A feather-light formula that instantly spreads over the face,evens out the  texture of the skin whilst giving a radiant edge. Its medium buildable coverage and satin finish provides subtle luminance to accentuate the natural stunner in you. It has niacinamide, Vitamin C, Bakuchiol, to reduce discoloration, build and heal the skin from underneath the dermis, and brighten the complexion. Also, the formula is infused with SPF 50! 
A lasting formula that sits on your skin like a dream for hours, doesn't make your skin a couch for dull dry patches and settles into the creases. Imparts a radiant, dewy finish and high coverage to conceal + heal your skin flaws. It has SPF 50 going into it, an active Tripeptide complex and collagen that helps decrease the appearance of wrinkles and fine lines.
The product explains itself, it mattifies the skin and provides a natural finish for up to 12 hrs. This oil-free formula provides ultra-smooth coverage and accentuates the appearance of your natural skin texture.
It has Niacinamide and Zinc going into it, which helps smoothen the surface, reduces dullness, regulates sebum production, and prevents acne. It also contains SPF 50 to protect the skin from the harsh sun rays. This allows Matte Up to reduce the oil production in the skin over time while simultaneously working on improving uneven texture.
Currently, they're on discount and you can get your hands on it now!