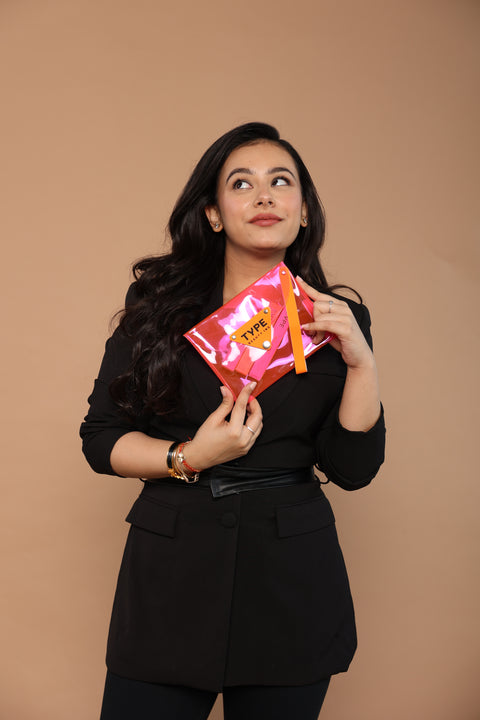 What's in my makeup bag: Founder's edition
Our founder Ananya Kapur is a chemist herself and is a makeup curator, quite literally. As much as she loves science, she loves makeup likewise. From playing with formulas in the lab to having her own science-backed, makeup brand she has come a long way! 
We know it's discriminative to ask a mother how much she loves her kids, but we asked our founder to list her everyday staples out of the lot and being guilty enough about not having to put them all in one place, she did mention a few products that she literally can't do without!
First and her favorite, Over dew plumping primer! It's a deeply hydrating cream-like formula that blends seamlessly into the skin without clinging to dry patches or settling into creases. It comes with a luminous purple tint that gives your skin a natural glow and eliminates dullness for a lit-from-within finish and gives a Korean- glass-like skin ofc!
Calm-on foundation is hands down a savior for her skin. Having sensitive skin, she   never really settled down on a foundation for life because it never suited her. Thus, she decided to come up with a formula that is specifically for sensitive skin people, because she knew she ain't the only one!
Get Even concealer is by far her favorite product, well it was our first launch too so a little biased but it truly did wonders for her skin. It helped her a lot with pigmentation, dark spots and in general brightened her skin. 
Our latest launch, dual smudge stick is another staple she absolutely doesn't miss, because yeah she's busy, she's the boss and quite literally has 7 million things to look after. So, she made a product for workaholics like her, who with a swipe of a product are good to go! She loves using dual smudge stick in the shade of salmon-salted caramel, that with a swipe gives her a perfectly blushed-bronzed look!
To ace her look and add that vibe, she finishes her everyday look with her absolute favorite light-up lipstick in the shade self-made and light-up lip luster in self-made to add shine to her lips! Also, the light-up variant is the first in the world to deal with lip pigmentation hence a cherry on the cake for you!
We currently have a sale ongoing and you can literally get it at a discount, so go get your hands on chemist-curated makeup products just made for your type!