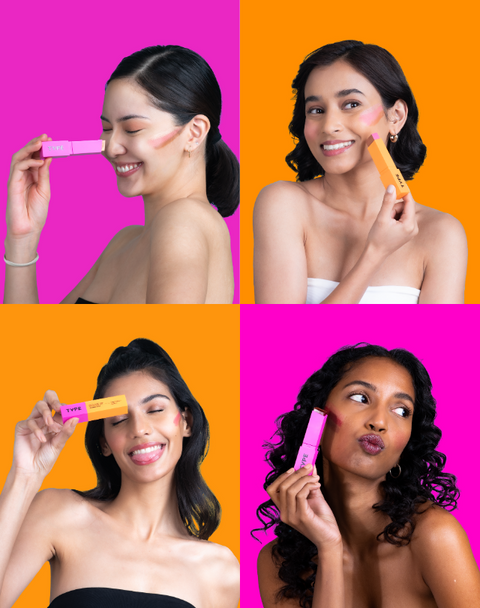 A magic makeup wand: Smudge sticks
There has been a lot of buzz around the word, "sandwich makeup" Aka, layering too many makeup products on your skin, which then leaves no space for your for your pores to breathe. Well, when it comes to Type Beauty, we're faster than light when it comes to beauty problems, with our science-backed formulas, and semi-customized makeup, we pave the way to beautifully conceal the beauty problems!
Just like that, our very recent launch, "SMUDGE-STICKS" is all about that! They're multifunctional face sticks, which can be used as an eyeshadow, blush, contour, to highlight lips, and in whichever way you'd like to play around with it! Sticking to our Type roots, here we offer 3 variants in it, Soak It, which is a pick for dry & dehydrated skin, thus when you put it on it infuses life into your dull & dry skin whilst giving it a perfect look. The second variant is Zit Quit, which takes care of your stubborn zits while makeup sits beautifully on the skin and the last one is the Get Even variant, which is a solid pick for your pigmentation and dark spots, the ingredients in it help it lighten the marks underneath your skin tissues.
Not just that, we're always a mile ahead in the beauty game, we got dual smudge sticks too! It also comes in above mentioned 3 variants, Soak it, Zit Quit, and Get Even. However, they're edgier and solve your "too many products" problem in a go as it has 2 shades in each stick! This is extremely versatile and allows you to play around with colors while carrying a minimum product along, basically, the artist in you will scream for sure when you get your hands on it! 
If you haven't tried them yet, you're surely missing out on one of our most versatile and supremely loved products! Go check it out at Dual Smudge Sticks  or Smudge Sticks