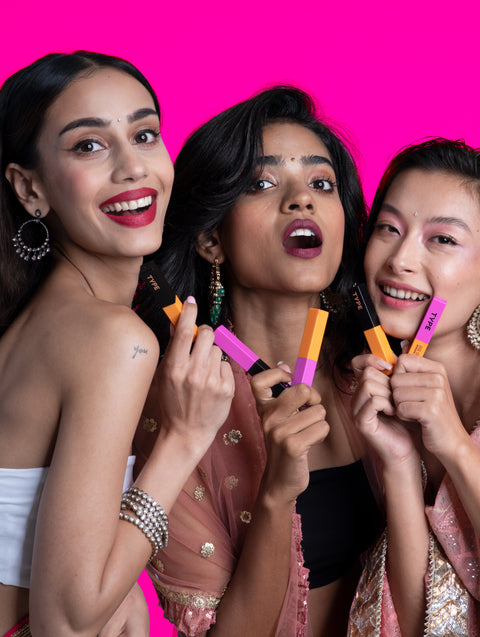 Hello Bridesmaid, the eyes are on you!
Hey, nobody is more excited than you for your best friend's wedding, and we know that sigh! With all the running around, last-minute trials with her, finalizing her trousseau, gossip, being her rock, and of course her makeup vanity, you're all over the place and have barely any time left to decide your own looks.
But, you know what Type Beauty's quick, easy, and multi-use products have saved your life because we know struggling with your looks on your bestie's special day is the last thing you want to deal with post all the emotional rush!!
Kick-start with a kickass base: No good makeup story is ever made without a good base and for that you need a primer to fit your skin just like your Type! We have four types of primers and you can just pick the right one for you as per your skin, and you save 10 more extra minutes of your life amid this rush as it's skincare infused. 
Ugly crying at every moment because she's getting married is a part of your everyday routine now and you don't want your makeup to melt down and look ugly on her special day, hence you need a rock-solid foundation to keep your base intact! We have 4 types of foundation, aka Get Even for pigmented and blemished skin, Matte Up for Oily skin, Decrease for aging skin, and Calm on for your sensitive skin and soul! We know you're being tough but her tying the knot with the love of her life is making you feel all the feels.
Hide them dark circles with our OG Concealers because all you did before the wedding was scream music until your throat hurt and drink until your liver could take no more.
Okay, your eyes gotta talk and you need an eye look to be remembered, but all you got is the lesser and less time for your eye look because you're the need of the hour for your bestie and you need to do your eye look within minutes. We have you covered with our angular eyeshadow sticks, which in a swipe can give you the look of your dreams. Plus, it's angular it can easily give you liner and colored kajal too! See, we saved your money here too, because you splurged recklessly on her wedding already.
Pout it right, because you're going to shower your bestie with endless kisses and it has be nothing but perfect! We got you covered with options again because doesn't matter if anybody is paying attention to you right now, but we're paying attention to your skin. Hence, we have light-up lipstick for pigmented lips and soak it for dehydrated lips. So, you can pick your perfect shade out of the both the ranges that suits the best to you.
Okay, lastly blush it and shine on!! Our dual smudge sticks are no less than a blessing for people in a rush. Just swipe it and you get your blush+highlight there spot on! 
And, here you go full out with your perfect look for your bestie's wedding!